TOUR  1  -  July 11  -  16, 2017

A CARAVAN TOUR is a group of vehicles (maximum of six) traveling together.  Everyone travels in their own vehicle.  Little House Site Tours plans the routes, lodging, site visits, a picnic, and farewell dinner.   All lodging places  have a swimming pool.     This tour begins on July 11, 7 PM, in Hudson, WI, and ends with a noon dinner on July 16 in Owatonna, MN.  Tour includes lodging for July 11, 12, 13, 14, 15.

Visit Laura's Birthplace - Little House Wayside,

Pepin Museum,  and take pictures along 

Lake Pepin,

      Learn more about Pepin, Wisconsin, at

 Laura's Birthplace, 

Little House Wayside

 Pepin, Wisconsin

             All  ages  have  fun

         Wading  in  Plum  Creek.

 We tour the Masters Hotel and learn more about Laura's life 

in 1876-77.

De Smet, South Dakota

A FUN PLACE FOR ALL AGES

De Smet, South Dakota

We enjoy touring this home  -  built by

Pa Ingalls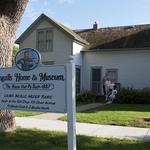 Spring Valley, Minnesota

The Wilders were instrumental in the building of this church.  Learn more about the Wilder years in

Spring Valley and enjoy this beautiful museum.

  We have front row reserved seats.

           Fragments  of  a  Dream

We see this pageant, which tells about Laura's life in 

Walnut Grove.  We also enjoy  touring their "hands on" museum,

seeing Pa's Bell, and visiting the

dugout site.

We enjoy the pageant in De Smet.

Five of the Little House Books took place in this area.  This pageant is a  re-enactment of

The Long Winter

De Smet, South Dakota   -   Our tour will be here for 

Laura's 150th Birthday Celebration  -  featuring

William Anderson, noted author    Dean Butler, "Almanzo"

Alison Arngrim, "Nellie" and Judy Thompson,

Pioneer Girl illustrator

​We  still  have  room

available  on  this  tour.