A caravan tour is a group of vehicles (maximum of six) traveling together.  Everyone travels in their own vehicle (or one that has been rented).  Little House Site Tours plans the routes, lodging, site visits, picnic, and a farewell dinner.  All lodging places have a swimming pool.

This tour begins on Thursday, July 19, 7 PM, near Walnut Grove, MN; ends Saturday night, July 21, with dinner and overnight stay near Walnut Grove, Minnesota.  

       This tour visits Walnut Grove, MN, and De Smet, SD, and sees the pageants in both places.

De Smet, South Dakota  -  Setting for five Little House Books

We ride in this covered wagon to a one room country school and experience many pioneer activities.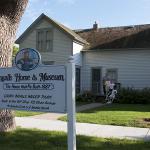 Pa Ingalls built this home in town.  We enjoy our tour here and also visit the Surveyors House and Brewster School replica.

We enjoy the pageant in De Smet.

Five of the Little House Books took place in this area.  This pageant is a  re-enactment of

These  Happy  Golden  Years.

Replica cabin 

at

the Ingalls Homestead

    Wilder Welcome Center

             De Smet, SD

           A Special Tour

We learn so much about  this area and see many places that Laura mentions in her books.

    We enjoy the pageant

    Fragments of a Dream - 

    the story of Laura's life

         in Walnut Grove.

All ages enjoy the 

Walnut Grove Museum with  "hands on" activities for all ages.  Many items from the TV series are on display along with several original 

Garth Williams' illustrations.